If you want to build your own mods, you can find great information at
Mods make the Cities: Skylines game more life-like and enjoyable. Modders add functionality that the game producers did not feel important, or just didn't think about.
Unfortunately when a new version of the game is released, some mods "break", and stop working. This happened after the Plazas and Promenades update on September 14, 2022.
You can find the Cities: Skylines game version in the lower left corner of the Paradox Interactive launcher.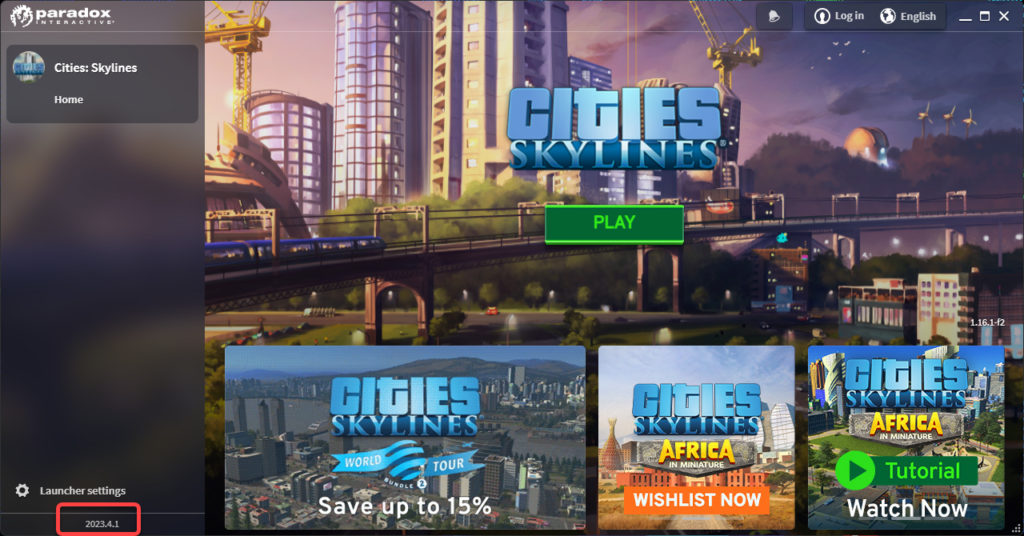 When you open the Content Manager of the game and one of the mods shows that it is out of date, Steam did not download the update.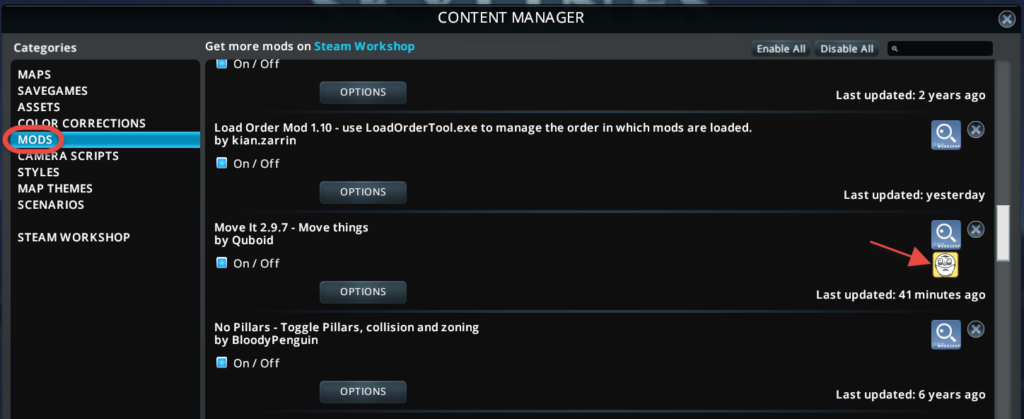 To get the latest version of the mod
Unsubscribe the mod
Close the game
Close Steam
Open steam again
Open the game again (Play)
Open the Content Manager
Subscribe to the mod again
This list contains mods compatible with Plazas&Promenades DLC at https://steamcommunity.com/sharedfiles/filedetails/?id=2595470859
This is the current list of mods I use, compatible with the Plazas and Promenades update
Name
Description
Notes
Source
81 Tiles 2 1.0.2.2

(Works with ver. 2023.4.1)
A complete ground-up rewrite of the venerable '81 tiles' mod
Enable
– electricity transmission without powerlines
– electricity transmission along roads
– water, sewage, and heating transmission without pipes
– ignore original water buildings
– ignore area unlocking progression
– permit building outside of owned tiles
Click the Unlock all areas button
https://steamcommunity.com/sharedfiles/filedetails/?id=2862121823
Advanced Vehicle Options 1.9.11

(As of 2023 April 10 Causes "Object reference not set to an instance of an object" error in ver. 2023.4.1)
This mod let you customize various options about vehicles.
In-game hotkey: Alt-Shift-O
https://steamcommunity.com/sharedfiles/filedetails/?id=1548831935
BOB, the Tree and Prop Replacer 1.0

(Works with ver. 2023.4.1)
Beautify Our Builds (BOB).
OR
Universal Beauty Manager Tool To Change Ugly Props And Trees Or Bury Them (UBMTTCUPATOBT).
– Press Alt-B and click the object to open the BOB panel.
– Set probability to 0% to hide prop, tree, parking space.
– Offset is in meters: X left and right or across the width of the network, Y up and down, Z along depth of building or along the network
https://steamcommunity.com/sharedfiles/filedetails/?id=2197863850
Clouds & Fog Toggler

(Works with ver. 2023.4.1)
Disable clouds and distance fog that blocks your view when zooming out. Also allows to disable industrial smog and edge fog.
Disable
– clouds
– industial smog
– distance fog
– edge fog
https://steamcommunity.com/sharedfiles/filedetails/?id=523824395
Common Ground

(Works with ver. 2023.4.1)
This mod makes terrain outside the purchased area and in the map editor behave as if it was purchased. This means higher terrain mesh resolution, and surface modifications such as clipping or gravel work.
Set the number of tiles to render in Options. For the editor select 81 tiles.
https://steamcommunity.com/sharedfiles/filedetails/?id=2590879367
Compatibility Report v2.3.2 (Catalogue 7.17)
(OK)
This mod checks all your subscribed mods for compatibility issues and missing dependencies.
https://steamcommunity.com/sharedfiles/filedetails/?id=2881031511
Extra Landscaping Tools by BloodyPenguin

(Works with ver. 2023.4.1)
Allows to place natural resources in-game + provides configurable tree brush&pencil, terraform and water tool.
https://steamcommunity.com/sharedfiles/filedetails/?id=502750307
Harmony 2.2.2-0 (Mod Dependency) [1.16.0-f3 compatible]

(Works with ver. 2023.4.1)

This is a dependency for various other mods.

It provides Andreas Pardeike's Harmony patching library[github.com] (version 2.2) to all mods that require it.
https://steamcommunity.com/sharedfiles/filedetails/?id=2040656402
Image Overlay Renewal 1.8.3

(Works with ver. 2023.4.1)
Image Overlay 2 is an updated version of Image Overlay by Lanceris.
See Recommended map making related website on the mod's page for useful resources.
Copy the background PNG file into C:\Program Files (x86)\Steam\steamapps\common\Cities_Skylines\Files

Press CTRL-I to display the config panel.

To re-align an image with your existing layout:
– first, align the upper left corner,
– adjust the side length and rotation to match your layout in the lower right corner,
– make small adjustments and repeat the steps for best result, as changing the side length usually moves the upper left corner too.

Click the Apply opacity button the apply the Opacity value changes.
Press Shift-Enter to control the visibility of the overlay.
https://steamcommunity.com/sharedfiles/filedetails/?id=2616880500
Fine Road Tool 2.0.4
This mod allows you to set finer road elevation steps and also provides different building modes.
https://steamcommunity.com/sharedfiles/filedetails/?id=1844442251
Loading Order Mod V1.15.7 (STABLE)

Loading the game with LOM enabled will automatically sort mods in a deterministic manner (independent of sub order) that will put harmony first. This default load order solves load-order-related bugs and minimizes the loading time for most cases.
https://steamcommunity.com/sharedfiles/filedetails/?id=2620852727
Move It 2.10.3

TESTING
This mod allows you to select, move and align various things.
https://steamcommunity.com/sharedfiles/filedetails/?id=1619685021
REINSTALL
Network Anarchy

Using Harmony 2

(Works with ver. 2023.4.1)
This mod adds additional options when building networks (roads, quays, etc) and provides game-wide anarchy to let you break the placement rules.
https://steamcommunity.com/sharedfiles/filedetails/?id=2862881785
NoPillars ( v1.1+ compatible )
(NOT COMPATIBLE, use Network Skins instead)

Build bridges without pillars over canals and other objects.
In Options turn off "Reset drop box position on panel hiding"
https://steamcommunity.com/sharedfiles/filedetails/?id=463845891


Network Skins BETA

(Works with ver. 2023.4.1)
Change the visual appearance of roads, train tracks and pedestrian paths per segment.
https://steamcommunity.com/sharedfiles/filedetails/?id=2698595602
Node Controller Renewal 3.4.0.2

(Freezes reported)
The new UI allows you to make the perfect intersection with just a few clicks.
Activate in game with CTRL-N
https://steamcommunity.com/sharedfiles/filedetails/?id=2472062376
Patch Loader Mod
Core dependency of FPS Booster
https://steamcommunity.com/sharedfiles/filedetails/?id=2041457644
Picker 4.0.1

Uses Harmony 2

(Works with ver. 2023.4.1)
With Picker, you can choose any object placed on the map to open its construction menu and select it, ready to place again. Also known as a pipette or an eye-dropper tool.
https://steamcommunity.com/sharedfiles/filedetails/?id=2172488844
REINSTALL
Ploppable Asphalt +
Allows using road shaders on props for ploppable asphalt, pavement, cliff, grass, gravel surfaces.
https://steamcommunity.com/sharedfiles/filedetails/?id=881291183
Precision Engineering

(Works with ver. 2023.4.1)
Precision Engineering augments Cities: Skylines by adding angle snapping, guidelines, and additional information to assist you when building roads, train lines, pipes, and power lines.
https://steamcommunity.com/sharedfiles/filedetails/?id=445589127
Prop & Tree Anarchy by BloodyPenguin
Place props & trees wherever you like
https://steamcommunity.com/sharedfiles/filedetails/?id=593588108
Quay Anarchy
Allows placing quays and flood walls anywhere. Also fixes 'Height too high' for quays, flood walls, cargo and passenger harbors
https://steamcommunity.com/sharedfiles/filedetails/?id=650436109
TM:PE 11.7.0.0 STABLE (Traffic Manager: President Edition)

TESTING
Improve lane and parking usage. and customize junctions, roads, and rails! This is the stable release with tested features.
https://steamcommunity.com/sharedfiles/filedetails/?id=1637663252