Mods make the Cities: Skylines game more life-like and enjoyable. Modders add functionality that the game producers did not feel important, or just didn't think about.
Unfortunately when a new version of the game is released, some mods "break", and stop working. This happened after the Plazas and Promenades update on September 14, 2022.
When you open the Content Manager of the game and one of the mods shows that it is out of date, Steam did not download the update.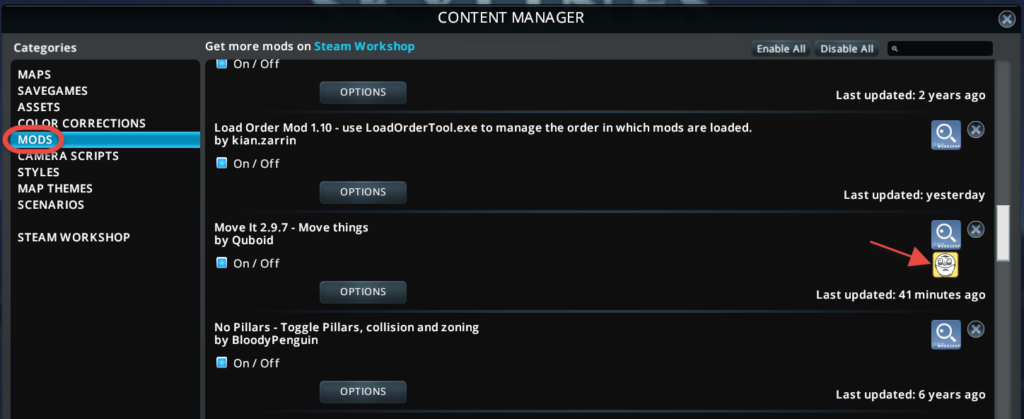 To get the latest version of the mod
Unsubscribe the mod
Close the game
Close Steam
Open steam again
Open the game again (Play)
Open the Content Manager
Subscribe to the mod again
This list contains mods compatible with Plazas&Promenades DLC at https://steamcommunity.com/sharedfiles/filedetails/?id=2595470859
This is the current list of mods I use, compatible with the Plazas and Promenades update
Name
Description
Notes
Source
81 Tiles 2 TESTING
A complete ground-up rewrite of the venerable '81 tiles' mod
Enable
– electricity transmission without powerlines
– electricity transmission along roads
– water, sewage, and heating transmission without pipes
– ignore original water buildings
Click the Unlock all areas button
https://steamcommunity.com/sharedfiles/filedetails/?id=2862121823
Advanced Vehicle Options
This mod let you customize various options about vehicles.
https://steamcommunity.com/sharedfiles/filedetails/?id=1548831935
Clouds & Fog Toggler
Disable clouds and distance fog that blocks your view when zooming out. Also allows to disable industrial smog and edge fog.
Disable
– clouds
– industial smog
– distance fog
– edge fog
https://steamcommunity.com/sharedfiles/filedetails/?id=523824395
Compatibility Report v2.0.5
This mod checks all your subscribed mods for compatibility issues and missing dependencies.
https://steamcommunity.com/sharedfiles/filedetails/?id=2881031511
Extra Landscaping Tools [1.15.0-f2 FIX]
Fixed version of the original Extra Landscaping Tools by BloodyPenguin. You need to unsubscribe the original one!

This is a temporary fix, to make it work with all updated mods including 81 Tiles 2
https://steamcommunity.com/sharedfiles/filedetails/?id=2862940316
Harmony 2.2-0 (Mod Dependency) [Plazas & Promenades compatible]
This is a dependency for various other mods.

It provides Andreas Pardeike's Harmony patching library[github.com] (version 2.2) to all mods that require it.
https://steamcommunity.com/sharedfiles/filedetails/?id=2040656402
Image Overlay 2

Image Overlay 2 is an updated version of Image Overlay by Lanceris.
See Recommended map making related website on the mod's page for useful resources.
Copy the background PNG file into the C:\Program Files (x86)\Steam\steamapps\common\Cities_Skylines\Files directory
https://steamcommunity.com/sharedfiles/filedetails/?id=2616880500
Fine Road Tool 2.0.4
This mod allows you to set finer road elevation steps and also provides different building modes.
https://steamcommunity.com/sharedfiles/filedetails/?id=1844442251
Loading Order Mod V1.10.1-Beta
Loading the game with LOM enabled will automatically sort mods in a deterministic manner (independent of sub order) that will put harmony first. This default load order solves load-order-related bugs and minimizes the loading time for most cases.
https://steamcommunity.com/sharedfiles/filedetails/?id=2448824112
Move It
This mod allows you to select, move and align various things.
https://steamcommunity.com/sharedfiles/filedetails/?id=1619685021
REINSTALL
NoPillars ( v1.1+ compatible )
Build bridges without pillars over canals and other objects.
In Options turn off "Reset drop box position on panel hiding"
https://steamcommunity.com/sharedfiles/filedetails/?id=463845891
Node Controller Renewal 3.3.1
The new UI allows you to make the perfect intersection with just a few clicks.
https://steamcommunity.com/sharedfiles/filedetails/?id=2472062376
Patch Loader Mod
Core dependency of FPS Booster
https://steamcommunity.com/sharedfiles/filedetails/?id=2041457644
Picker
With Picker, you can choose any object placed on the map to open its construction menu and select it, ready to place again. Also known as a pipette or an eye-dropper tool.
https://steamcommunity.com/sharedfiles/filedetails/?id=2172488844
REINSTALL
Ploppable Asphalt +
Allows using road shaders on props for ploppable asphalt, pavement, cliff, grass, gravel surfaces.
https://steamcommunity.com/sharedfiles/filedetails/?id=881291183
Precision Engineering
Precision Engineering augments Cities: Skylines by adding angle snapping, guidelines, and additional information to assist you when building roads, train lines, pipes, and power lines.
https://steamcommunity.com/sharedfiles/filedetails/?id=445589127
Quay Anarchy
Allows placing quays and flood walls anywhere. Also fixes 'Height too high' for quays, flood walls, cargo and passenger harbors
https://steamcommunity.com/sharedfiles/filedetails/?id=650436109
TM:PE 11.7.0.0 STABLE (Traffic Manager: President Edition)
Improve lane and parking usage. and customize junctions, roads, and rails! This is the stable release with tested features.
https://steamcommunity.com/sharedfiles/filedetails/?id=1637663252