Set up your computer
Display the file extensions
On Windows 11
Open the File Explorer
Click the arrow next to View and select Show
Mark File name extensions and Hidden items

On Windows 10
Open File Explorer
On the View tab select

File name extensions
Hidden items

On Windows 7
(if you accidentally run into an ancient machine)
Open Windows Explorer and select Organize
Select Folder and search options

On the View tab

Select Show hidden files, folders, and drives
Uncheck Hide extensions for known file types

Disable the Windows key
If you use a Macintosh computer, you use the Command key all the time. Unfortunately, on the Windows keyboard you will always accidentally hit the Windows key. This can be very frustrating, as pressing the Windows key with any of the cursor keys will resize the current window.
To disable the Windows key
Download the 64 bit version of PowerToys by Microsoft (currently PowerToysSetup-0.68.1-x64.exe) from https://github.com/microsoft/PowerToys/releases/tag/v0.68.1
Execute the installer file to install the application
Start Powertoys
On the left side select the Keyboard manager

Click the Open Settings button

Select Remap a key

Click the plus sign

On the left side select Win (Left), on the right side select Disable and click the OK button.

Click Continue Anyway

Nice to have utilities
WinDirStat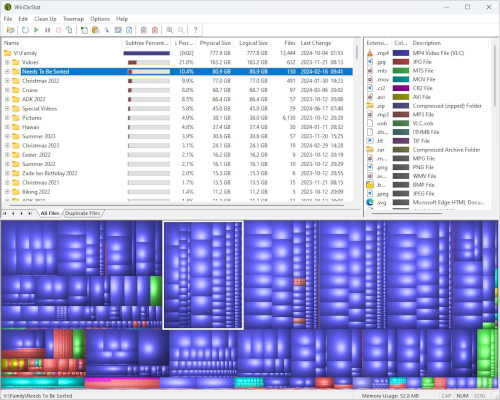 WinDirStat is a disk utility to display the relative size of your files in a graphical interface and provide a tree view to help to find them.
Download it from https://windirstat.net/