The Microsoft Active Directory is a great system to manage the security of servers and workstations. One of the fundamental security tools is the password expiration policy.
To set the password expiration policy in an Active Directory domain follow the steps below
Remote desktop into the domain controller
Start the Active Directory Users and Computers snap in
Right click the root domain name and select Properties
Select the Group Policy tab
In the middle select the Default Domain Policy Group Policy Object Link
Click the Edit button
On the left side expand Computer Configuration > Windows Settings > Security Settings > Account Policies
Select the Password Policy and Account Lockout Policy keys to set the desired values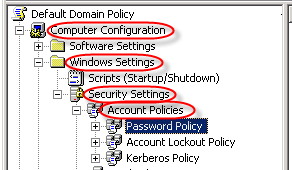 Warning!
All new and existing user accounts will inherit these settings, and the password of existing user accounts will immediately expire where the "Password never expires" option is not set.